LUNOMAT- 2.5 PM filtering for huge rooms
LUNOMAT – THE BIG BOY, FOR BIG ROOMS
The LUNOMAT is LUNOS' latest invention, which hit the market in April 2020. It is the first central ventilation unit from LUNOS and has a highly efficient enthalpy heat exchanger with a heat recovery efficiency of up to 95 percent.
The LUNOMAT is pressure-resistant and highly efficient thanks to its EC radial motors. Like the decentralized devices, the LUNOMAT is also using the interchangeable F7 and F9 class filters.
Versatile installation options
All fans from the e² family can be used in new buildings as well as in modernization work. In new buildings, they are placed between the bricks with the use of a wall installation housing. In modernization work, they are installed with a 162 mm or 100 mm (e²mini) drilled core hole.
Due to their very low power consumption, e², e²short and e²mini are particularly energy-efficient. The units thus achieve very good energy efficiency classes.
Highly efficient motors with state-of-the-art EC technology combined with flow-optimized and specially balanced fans have eliminated nearly all running noises. The result is a low noise level.
Technical data
Volume flow
0 – 125 m³/h
Efficiency ratio
85 %
Efficiency according to PHI
84 %
Specific power consumption (SPI) at 50 Pa*
0,29 W/(m3/h)
Max. Power consumption at 125 m³/h, 100 Pa
52 W
Supply voltage
100 – 240V I 50/60 Hz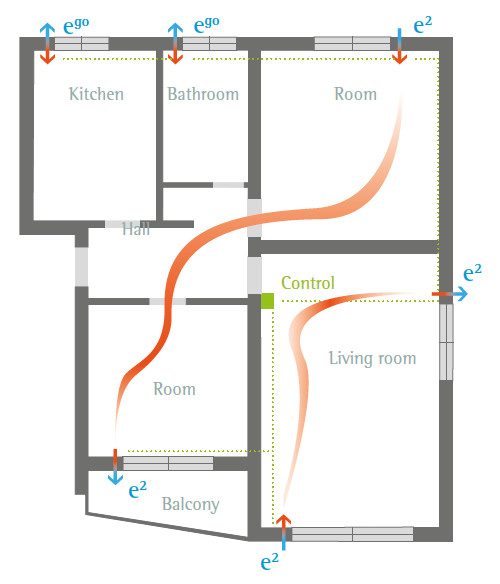 Address
31 Bangwaek 104, Bang Waek Road
Phasi Charon District, Khlong Kwang
Bangkok, 10160