E² SHORT – 2.5 PM filtering for houses and appartments
The classics from the e2 family, three fans for all application purposes
No other fan has decentralized ventilation with heat recovery as strong as the LUNOS e2. It is universally usable and can be used even for high sound protection requirements. The e2short and e2mini were developed for an even more flexible application range in the e² family. Thanks to these two fans, even very narrow walls can be equipped with efficient ventilation devices.
The short one: for narrow outer walls from 200 mm wall thickness.
Versatile installation options
All fans from the e² family can be used in new buildings, as well as in modernization work. In new buildings, they are placed between the bricks using a wall installation housing. In modernization work, they are installed using a 162 mm or 100 mm (e²mini) drilled core hole.
Due to their very low power consumption, e², e²short and e²mini are particularly energy-efficient. The units thus achieve very good energy efficiency classes.
Highly efficient motors with the state-of-the-art EC technology combined with flow-optimized and specially balanced fans have eliminated nearly all running noises. The result is a low self-noise level.
Technical data
QUIET
Measuring surface sound pressure level* (Sound power level)**: From 17 dB (40 dB)
ECO-FRIENDLY
Power consumption: From 1,0 W
INNOVATIVE
Average thermal efficiency level: Heat provision level according to scavenging air procedure: 82.7 %
SLIM
Dimensions: Fan size: Ø 154 x 168 mm
COMPATIBLE
Compatibility with other devices: All 160 systems incl. LUNOtherm and outer hoods as external closure
UNIVERSAL
Versatile installation options: Usable in new buildings and modernization work, wall thickness from 200 mm to max. 500 mm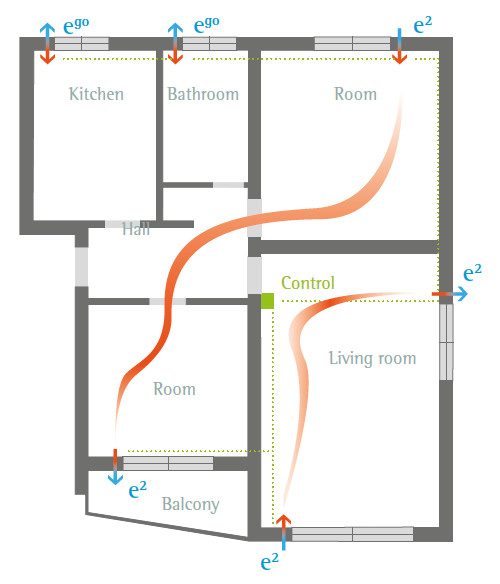 Address
31 Bangwaek 104, Bang Waek Road
Phasi Charon District, Khlong Kwang
Bangkok, 10160